There is something about Adam Thompson!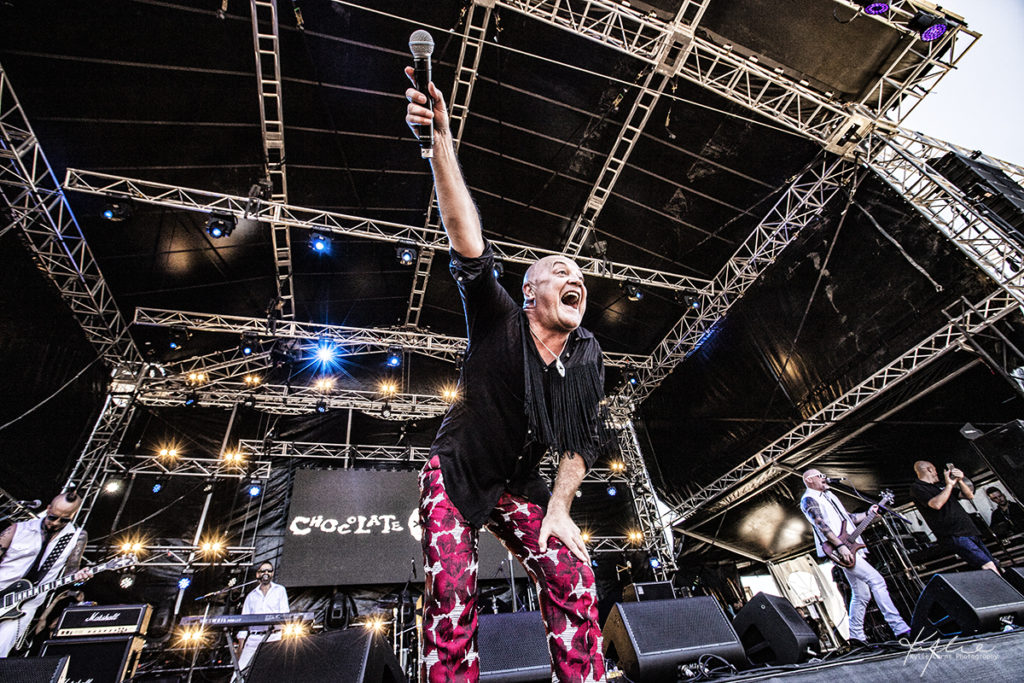 What can I say about Adam Thompson, the fabulously gifted frontman of Chocolate Starfish? Fronting Starfish since 1992, Thompson is still known as one of the best frontman Australia has produced and if you haven't seen him perform live, you are certainly missing out. Known for his eccentric outfits and energetic performances, there seems to be a quieter, gentler and even enigmatic side to Thompson that makes him so very humble and so very grounded!
Embarking on the national tour of 'Adam Thompson: Bohemian Rhapsody', Thompson's incredibly ambitious tribute show to Queen, it seems he is always up for a personal challenge. Previously touring Meatloaf's Bat Out Of Hell and INXS' classic album Kick, it seems the harder the show, the sweeter the challenge. Attracting new fans along the way, it's a way of showcasing his talents to fresh audiences that have been missing out on his amazing performances.
"I personally made a bit of a challenge to myself. This is going to sound egotistical but it's not meant to, but changing the way that people view heritage rock 'n' roll. In the last three to four years, a lot of bands, you know heritage bands, have their on-call routine and that's kind of it. They keep releasing new material and they might do a side project but it doesn't really stretch much unless you sort of bleed into a festival type scenario where you might pick up some people from another band. But with these classic albums that we do, it has really opened us up to markets that we would never been part of and out of the spectrum. So if you look at Bat Out Of Hell, it was probably a market that opened us to fans that would go see the likes of Ross Wilson and John Paul Young, that sort of older rocker, but Queen with Bohemian Rhapsody the other night, I would say that 15% were under 18. So lots of kids came because of that, and because of Spotify, they research who you are, then all of sudden we have more kids and more "followers" because of those decisions. You can even see it on social media, like if we put up a post, it gets 100's of 1000's of hits where historically and looking at our peers, they don't get that, so its working in that respect"

It's been a big year for Thompson and his Starfish band members, so to now take on this solo adventure is a huge challenge.
"We started Bohemian Rhapsody on the weekend which was really good, but before that, obviously all the Starfish stuff over the last eight to nine months. The Red Hot Summer tours and the Rock the Boat. It's been big."
It is no wonder that Thompson is still in demand even after all these years. But what makes him stand out from the crowd? Clearly, it's his stage presence, the ability to get the party started and no one can deny that his outfits are key to his performance.
"Well, it's all part of the adventure. It's the outfits. Even 25 years ago, it was all about daring to be a little bit different and not being the same as everyone else. That has the propensity to fail but also has the propensity to make you stand alone and ultimately, it has done that . You know we are doing a lot of interviews around Bohemian Rhapsody and one of the things that I talk about is back when I discovered Freddy Mercury and his style and when I decided I wanted to wear stuff like that and be flamboyant, all my musical peers were saying "Well he was a gay guy and you're a straight guy, you cant really do that. It's not really what rock people do" and I said " I know that I'm straight and he's gay but I still want to do it" The irony is, is that I stuck to my guns and always dressed that way, I have always done a performance like that. We are 25 years on now. I have the Brewster brothers from The Angels going 'don't you change! We love you just like that" And here they are, these black t-shirt wearing rock dogs. and I mean that in the nicest possible way, who love me because of that. It is a signature. That to me is Kudos."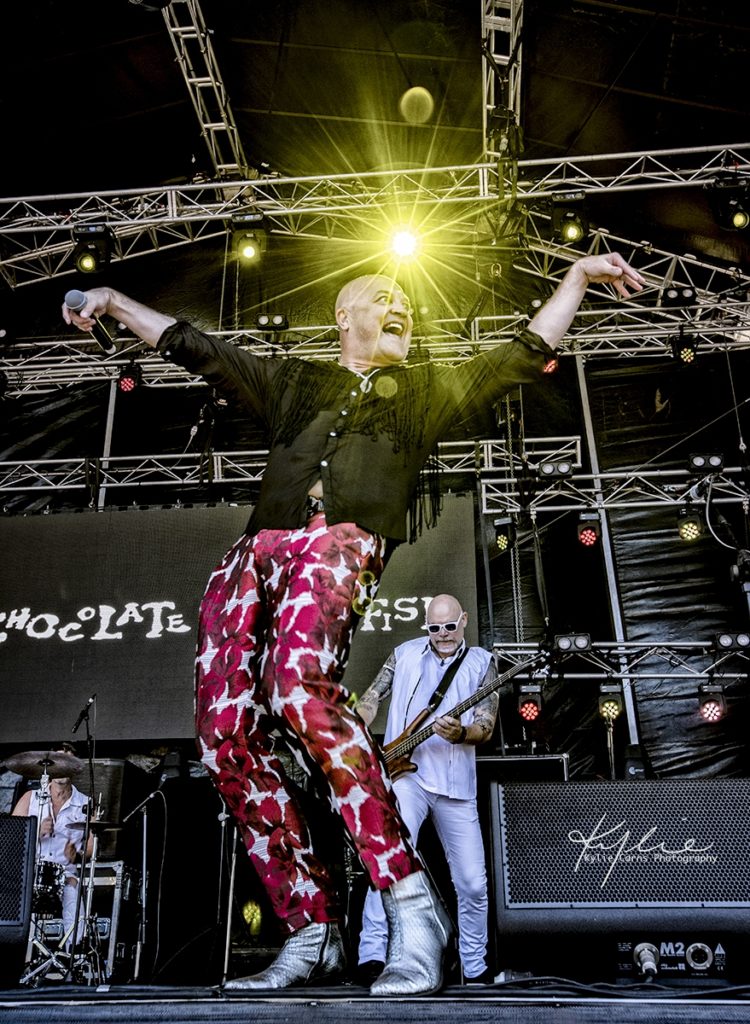 But who is the man behind these costumes and the flamboyant stage sparkles and tassles? It takes a lot of energy and preparation to keep up the persona of this energetic frontman.
"I look comfortable up there, but it takes a lot of preparation to feel that comfortable, if that makes sense. It accidentally looks comfortable because I prepare a lot and I am really hard on myself and I am really hard on the band. Even the boys that are playing with me in Bohemian Rhapsody, (Zak Zedras is the only other Starfish guy,) go "he's demanding", but I am demanding of myself and because I know the level that I want to be at, and I know where I want to take that crowd and that sometimes comes with a bit of anxiety, sometimes it comes with sleepless nights , sometimes it always needs to be more prepared, but the more prepared I feel the more fun I can have up there . But I can get thrown really easy by the stupidest of things. Like if my guitarist and bass player, if we are doing a festival, and the back line guys have set them up the wrong side, it kind of throws me for a bit and I have to really dig deep and not let it destroy my show.
Thompson is well known for his flamboyant fashion sense and his stage performance is only enhanced by his outfits. But are they just a persona for him?
"I would say probably 20 years ago when we were starting out that was the case, now I find it very comfortable, so now it's really an extension but the interesting thing is you're kind of right. I am sitting here doing an interview with you in sport shorts and a singlet (I am about to go for a run) and that's me behind closed doors. I know that there are a lot of artists who wouldn't go down to the supermarket in anything less that their stage gear, whereas to me, that is the stage, and I love being on stage and I love doing that, but when I am home or when I am in the supermarket or visiting mates, I am as normal as the next person and I think it's that separation of stage and home and life that keeps me enjoying more, cause when I get up there, thats the persona, that's the person , that's the energy that I need. Another ironic thing even back to the 90's, people would think after that I would be ready to go to a bar, that I would be ready to party all night. I have given everything that I've got on stage and so the crowd think that 'he's going to come and do line of coke and we are going throw back ten drinks and he's going to be the life of the party', but I was the life of the party for the last two hours. Now you can go off and do what you want to do, but I am going to go to bed. I'm probably going to go out for a run, or I am going to meditate or whatever. Cause that's the balance, otherwise I would be one of those people that you read about who take their life cause they don't know how to balance it at."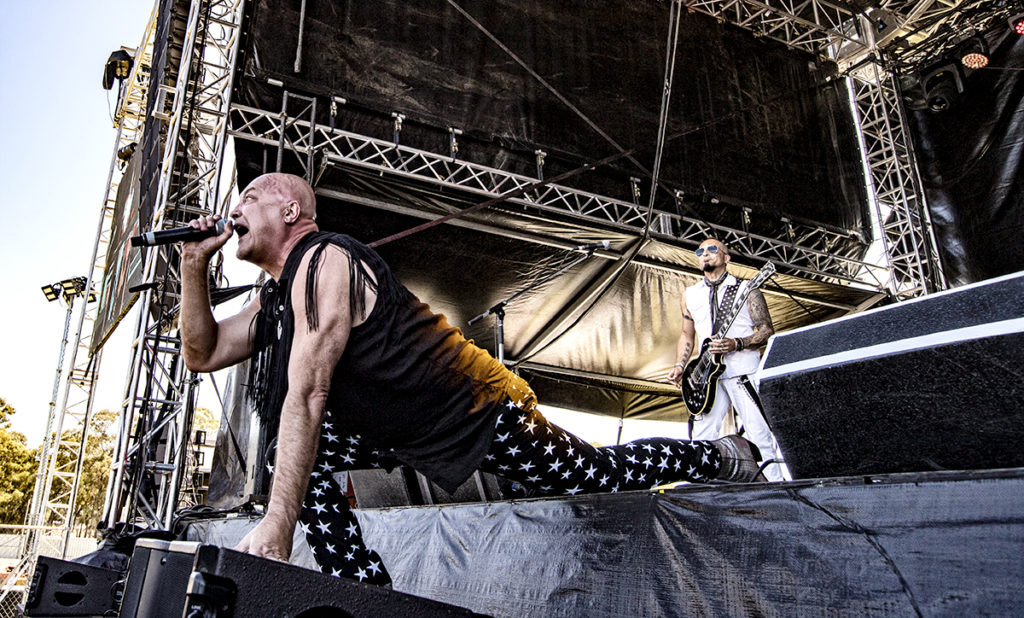 Thompson is no stranger to mental health issues, even cancelling their 2013 Red Hot Summer appearance at Jacobs Well, due to ill health caused by his generalised anxiety. Now days, Thompson has found a balance and manages his illness through alternative methods such a meditation and deep breathing exercises. But it wasn't always like this.
"Its ironic cause anxiety is something that I have only recently had in the last seven to eight years and it's probably taken that long now for the band to realise what that is. None of the other guys have generalised anxiety, so they just thought it was me being a prema donna for a long time and it wasn't. It got me and it still does. It gets to the point that it's uncontrollable, so they are kind of aware of it and their reactions to it now help me manage it better as well. So when we first came back and got together, it was back in 2013, (that was the first foray back I think). Zoran (Romic) had just passed and it was ironic, cause I go up on stage and every gig, I felt like it could get better. So therefore I had a challenge to make it better, but then it became problematic. It became "Why I am doing this and why are the others bands just standing there and just pretty much just delivering the show and not doing what I am doing? This is not right. I shouldn't be doing this and why aren't the crowd doing handstands like I want them too? It didn't seem real and I really had to get my head around how to be ok with that and where I was at with it and why it was happening. There was a lot of things that were coming all at once, and so I guess I just have to manage it through meditation and breathing but I think being open about it. The first Red Hot Summer back in 2013, I hadn't slept in about five days and I had to cancel the Jacobs Well show and again back in the day (sorry I am being long winded about this) the band were saying that 'Duane (McDonald) will never book us again and you cant do that sort of stuff.' I was like, 'I didn't have a choice, I cant cant speak" I literally couldn't speak for five days. So when we got back and did Jacob's Well this year, I actually made a point of talking to the crowd about how five years prior, I had to cancel due to mental health and I am just so glad to be back performing for you all and thanks for being patient. It was an amazing response from the crowd and I think being open about it and being transparent about it is also a huge part of dealing and healing.
For someone so flamboyant, many people see Thompson as the typical party guy, so for him to be so honest and sincere with the crowd, is a testament to his humble and caring nature.
"People make assumptions if they don't know you. There are not many people that know the real me or the many facets of me and so I guess until you make those kind of general statements, people assume something about you"
So what advice would Thompson give to up and coming musicians on handling the stress and anxiety that performing places on them?
"For people starting out, your first step is to realise that you are not invincible. Cause when you are young and you think 'This is just some old guy now talking about this and what needs I have, but I don't need it cause I'm in my 20's' . You do, and you will cause its cumulative and so part B of that for the older rockers; it's never too late to gather tools . A lot of the old rock crew, if you look at alcohol or something like that, was your tool to relax. My gathering of tools that I gathered in that last 10 years, well that's meditation and it's deep breathing. It's nature and I am on a constant quest, reading books that reaffirm some of the things that I am talking about here . It's never too late to get an armoury of tools and think you have got one so that will do. I think it's older musos or even an older person's thing that they think they are looking for a quick fix and when it comes to onset depression or anxieties or even just self worth especially when you get to our age, cause you're not at the top of the charts anymore, but you survive and you still have to be there, so you have to find ways to keep your balance. It's not a quick fix. It's a lifelong quest of being and that's the way I look at it"
The Bohemian Rhapsody tour is a testament to Thompson's work ethic and musicianship. Taking on a project of this scale has proven thus far, that audiences are delighted with hearing a great Australian singer perform Queen's catalogue wth the similar flamboyancy of the late great Freddy Mercury. So it is only natural to think that Thompson would have loved to share the stage with the one and only legend that is Mercury.
"It would be remiss of me if Freddy was still around, he would probably be one that I would want to. Ironically though, not with Adam Lambert. I see Adam Lambert as this really good person and a good singer and all that sort of stuff, but I think he's different to me. I think I am more like Freddy in that natural way of doing it, in a flamboyancy where I find Adam more theatre based. So that's the deceased realm. I am eclectic in the way I look at things too. I was blessed to share the stage with Judith Durham from The Seekers years ago. We co-wrote a song which she only released early last year and she now won't record again due to her age. That was a blessing but I also think there is going to come a time that I think I am going to get into opera. I just have to learn another language to do that (laughs). That's that only thing that stops me from doing it and cause when I muck around with Nessun Dorma, I can sing all the notes, I just don't know what the words are. I joke to the boys that I know Italian but I just really know the swear words (laughs).
Queen's music is such a staple in music culture and it's like we are born knowing the lyrics to Bohemian Rhapsody, but surely Thompson has a favourite or two he likes to perform on stage.
"Ive got two. I love doing 'Love of My Life'. Zak and I bring that down to acoustic. We have all been through heartbreak in our life in various ways, but when I sing that song, it takes me to another level and that on a balance side of it I love. I also am a real fan of 'Somebody to Love.' Even before we started doing these classic albums series, with 'Somebody to Love' and 'Bat Out Of Hell' I often used to need about 10 minutes for a PA system to reboot, so I would often do those acapella. So 'Somebody To Love" from this tour is great. I can have a lot of fun with the audience with a call and answer kinda of way so its great fun."
Thompson is a true professional and a delight to talk to. His candid banter and honesty about his mental illness, his true love for life and his music is clear when talking to him. It's hard not to like Thompson and look forward to seeing Bohemian Rhapsody at one of his shows in the near future. You can catch Adam Thompson: Bohemian Rhapsody at one of the shows below.
Tickets for the 2020 Regional Tour of Bohemian Rhapsody are on sale now.
For more information, please visit www.chocolatestarfish.com.au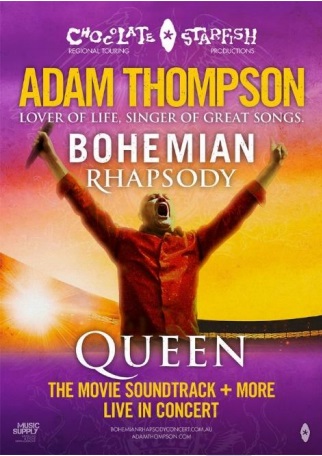 Friday 7th February 2020
Eastbank Centre, SHEPPARTON VIC
www.riverlinksvenues.com.au
Saturday 8th February 2020
Ulumbarra Theatre, BENDIGO VIC
www.bendigoregion.com.au
Friday 28th February 2020
West Gippsland Performing Arts Centre, WARRAGUL VIC
www.wgac.com.au
Saturday 29th February 2020
The Wedge, SALE VIC
www.thewedge.com.au
Friday 13th March 2020
Mildura Arts Centre, MILDURA VIC
www.milduraartscentre.com.au
Saturday 14th March 2020
Horsham Town Hall, HORSHAM VIC
www.horshamtownhall.com.au
Friday 3rd April 2020
Anita's Theatre, THIRROUL NSW
www.anitastheatrethirroul.com
Wednesday 15th April 2020
Queens Park Theatre, GERALDTON WA
www.qpt.cgg.wa.gov.au
Friday 17th April 2020
Mandurah Performing Arts Centre, MANDURAH WA
www.manpac.com.au
Saturday 18th April 2020
Bunbury Regional Entertainment Centre, BUNBURY WA
www.bunburyentertainment.com
Saturday 16th May 2020
Wendouree Performing Arts Centre, WENDOUREE VIC
www.wcpa.com.au
Friday 29th May 2020
Albury Entertainment Centre, ALBURY NSW
www.alburyentertainmentcentre.com.au
Friday 12th June 2020
Townsville Civic Theatre, TOWNSVILLE QLD
www.townsville.qld.gov.au
Saturday 13th June 2020
Cairns Performing Arts Centre, CAIRNS QLD
www.cairns.qld.gov.au
Friday 26th June 2020
Princess Theatre, LAUNCESTON TAS
www.theatrenorth.com.au
Saturday 27th June 2020
Theatre Royal, HOBART TAS
www.theatreroytal.com.au
BOHEMIAN RHAPSODY SET-LIST
SET 1: MONARCH SET
A Kind Of Magic
Another One Bites The Dust
Bicycle Race
Don't Stop Me Now
Fat Bottomed Girls
I Want It All
I Want To Break Free
Keep Yourself Alive
Killer Queen
SET 2: HER MAJESTY SET
Love Of My Life
Now I'm Here
One Vision
Save Me
Seven Seas of Rhye
Somebody To Love
The Show Must Go On
Tie Your Mother Down
Under Pressure
Who Wants To Live Forever
You're My Best Friend
ENCORE: SPECIAL LIVE AID SALUTE
Radio Gaga
Hammer To Fall
Crazy Little Thing Called Love
We Will Rock You
We Are The Champions
FINALE: A SALUTE TO FREDDIE MERCURY
Bohemian Rhapsody
Please follow and like us:
About Post Author