The World According to Andrew Farriss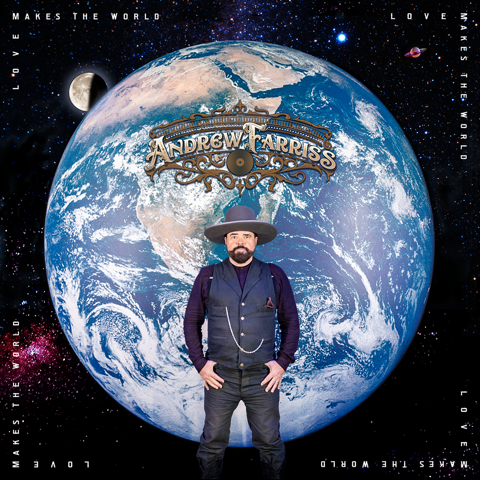 I think we can all agree that no one anticipated that the year 2020 would turn out the way it has. The music industry has certainly endured a lot; musicians have been forced to cancel tours, new releases postponed, and lives have been forever changed. Artists have had to think outside of the box and look at how they release and perform in a COVID world, and Andrew Farriss is no exception. Farriss was set to release his first solo album earlier this year with already having released two tracks off the LP before the pandemic hit the world. Not one to sit around and wait, Farriss decided to revisit previous tracks written throughout his career, remaster and release a special five track EP "Love Makes the World". Funnily enough, the tracks on this EP are so relevant to today's society, you would think they were written with the current climate in mind. Lyrics on the environment, the use of technology and even the loss of loved ones, Farriss' latest work is certainly a shining light in a dark world, but the question remains as to why he released this EP and not his full Solo Album?
"What happened was as you know; I was in the middle of releasing my self-titled album and then released two songs from it "Come Midnight" and "Good Mumma Bad". Then the pandemic kicked in and everybody basically with good reason, freaked out. It got worse and then the world, including Australia, shut down and then everyone changed their plans for a lot of things, including the record company that I am on for my Andrew Farriss country rock folk career (which is BMG for the rest of the world and Broken Bow Records out of Nashville) They said 'look you can keep putting your album out but we've all gone home'. Everyone was self-isolating. You know people aren't connecting properly, and this is the beginning of the pandemic, about halfway though, and so everyone was confused, and no one knew what was going to happen. I still think that some people still don't know what is going to happen right now, just talking to each other. So, I stopped pushing and because they said you can put it out if you want, but people are more concerned about health and family and for good reason. I thought, "You know what, that makes a lot of sense to me and I am going to stop and watch and see what happens". But in the meantime, I walked around like a lot of other people and like you were saying you were down there in Victoria and like a lot of other people, I thought what am I going to do with myself, cause my plans changed. So I started doing other things, and in the process, working out around on the property that I own. I started thinking that I had other songs that I had recorded in a similar way to my album. They just didn't suit what I was trying to do on my album, but I liked the songs. I started thinking about it more and I thought "I like these songs and they sound good". Actually, the lyrics I think, especially on my EP songs, really suit the times that we are going through, cause it's not party time. There are lots of songs about alcohol and 'yee-hahs" and all that and that's all very well, but it's not what we are going through, you know, and so I stopped and thought about that. So I contacted the recorded company and I said look `" I've got these songs. How about a four track EP or something"" and I thought they would say ' Oh No Andrew, you know we are all busy right now", but they said "That's a great idea!" So, yeah, it took me by surprise to be honest. So I went "Ok" and then suddenly I found myself doing this and that's why we are talking about it. But my album will come out by March the 19th 2021 if not before"
So suffice to say, Farriss doesn't know how to slow down.
"Yeah, I've been really busy. I don't know how not to be busy but luckily, I am married to a woman that somehow understands me and puts up with me and supports me. I am very fortunate to have her in my life"
When you listen to Farriss' new release, you can hear the influences from his latest country folk venture. With many of these songs, you can envision that they have a place on his soon to be released solo album. The EP though, takes us on a merry go round of life, love, loss and everything that is relevant in today's world. It encases everything that is relevant now.
"That's right, because it occurred to me that I had that photo from a real talented photographer and a good friend of mine and my wifes. It's a mate of hers from Ohio, from where her family lives and he is an amazing photographer and we had done a lot of work together. I had that photo of me standing in front of the earth and I was thinking possibly about putting that out after my LP you see, so I already had a lot of the artwork together then I realised that exactly what you just said, that a lot of the lyrics that I already tracked and recorded similar to my LP, made this really, I don't know how to put this, but I felt like it was meant to be. I know that that sounds like a lot of nonsense, but that's the way it felt. When I looked at the lyrics and I saw that photo, I went "now I know what I have to do, " because I need to have music out there that has empathy, and talks about caring about other people. It's not party time yet, Hopefully it will begin soon. "
The beautifully curated EP shares experiences that are of a personal nature to Farriss with collaborations from some big names, including Jon Stevens, Suze DeMarchi and Guy Chambers for a start. The second track on the EP "My Brother" co-written with Jon Stevens, a song that not only deals with the emotions of losing a male figure, but penning the song seemed to be cathartic to Farriss
"'My Brother' was a song that I co-wrote with Jon Stevens. Jon had experienced the loss of a family member who was very close to him, a male figure in his life. For me it was the loss of Michael (Hutchence),  but it's also, as the years have gone on, as we wrote that song together, I've realised now it could also be a song about a loss of male figure in your life. Like it could be someone you love and you miss them and they are gone, and you want to express your feelings and emotions about that. Blokes aren't very good about that let's face it. We know how to repair and fix things and do whatever we do, but we are not very good with dealing with that sort of conversation, so I think for myself, it was just having a song written like that, that was very close to the heart was very difficult to put out in the ether as a pop song. It wasn't written as a pop song, but it was written as a song from the heart. It wasn't about having a hit or anything. It was about expressing yourself, if you like, through song. I felt because of the pandemic and because of the loss that people are experiencing, not just the loss of family members through COVID 19, like literally losing, but loss of contact with family and friends. We can't travel overseas. My wife is originally from America and she would love to go home to her family but she can't. So what I am saying, that all of these things are all inter-related on my EP, where I am song writing about issues that are relevant.  That's all."
Farriss reminisces about working with Guy Chambers who is known for his work with Robbie Williams.
"That was written with Guy Chambers who you know as being one of the main song writers for and with Robbie Williams' career, and a very very talented person. So what happened was, I guess sort of pop / rock orientated songs we were working on together some time ago and we were working in London in a studio. He (Guy) had a family commitment that day and was late coming into the studio, but he had a whole room full of really amazing old analogue synthesisers and because of my career with INXS and as a keyboard player, I recognised how to use a lot of these things because I used to use some of them. So I started working on what became 'The First Man on Earth' which is eight minutes and eight seconds long. It's far too long and I apologise for the that, but that's what I was doing when Guy walked through the door and he says 'What have you been doing" and I played it to him and he said, "what's this"? and I said "it's just what I've been working on". It had nothing normal about its song structure. It didn't have a pop chorus. It doesn't have nice easy pop lyrics. It doesn't have any of that, it just meanders around and talks about the lyric which Guy and I wrote together once we sat down and started thinking about the music. 'First Man on Earth', is about what it feels like when you have a child and you look at technology and look what it's doing to our society, to us. And that fifty years ago, there was different technology and in 50 years time there will be different technology, but the point of the song is not changing. We need to identify the relationship between technology and human beings and that's what the song is about. The other songs on my EP, some of them "Love makes the World" which is the title track, which is the song I wrote about the cycle of life. Basically we come into the world as little kids, we need health from the moment we are born, if we are fortunate, we find someone, we fall in love and then the cycle goes on. You have children and then eventually someone has to pass away. I mean someone said to me the other day, 'did you really have to have that lyric at the end about someone passing away?" and I said 'Well, you know what? That's reality. I don't know what you want me to say to you, but that's just the way it is. It doesn't mean you don't love the person any less in your life, it's just reality." In my life as a songwriter, I have been confronted with reality many times in many forms, but I'm comfortable to write about it now"
Revisiting and remastering these tracks for his latest EP, is like Farriss is showing the world that this is 'Andrew Farriss, Solo Musician'. Releasing his music, his way.
"Basically, I think I could've written a whole lot of new songs, which I am still doing. I am always thinking of new ideas for new songs. In fact, I was working on one the other night. When I looked back at some of these songs, it was really the lyric content, especially 'Tears in the Rain'. It directly relates to the environment. I have only written one song with INXS called 'Salvation Jane' that never made it on the X album. It was put out as a special track, but 'Tears in the Rain', that I am particularly fond of, as it talks about the environment and it's a song that to me personally, I am not speaking on behalf of INXS, I am talking about Andrew Farriss, I am talking about what I believe in. These are my personal views on things. On My EP, it's my personal beliefs. I am not speaking on behalf of other people. I am very pleased with these songs. I have had an enormously good reaction to all of this. You know, after all of these years, I'm amazed anyone likes me, but I think I have got to say, that John Lennon once said very early in his career, 'You're lucky if anyone likes you". And he was right. You just don't know. You put your music out there, you are who you are, people either like you or they don't."
The EP has the same feel as the singles that Farriss has released off his highly anticipated Self-Titled Solo Album. It's no surprise that some of the tracks feature some of the same musicians. A very humbled artist, Farriss will always give credit where credit is due.
"Some of the tracks have the same musicians (from Solo LP) out of Nashville and some of them, like for example, I am playing on most of the instruments on 'First Man on Earth' and I'm also playing instruments on some of the other tracks like the lap steel on "All the Stars are Mine" I played the slide guitar on that. I've also learned over the years, especially in my years with INXS, to be open minded with other musicians. Don't be a bully. If people have really good suggestions or ideas, and they can make recording sound better, then I shut up and listen to what they are trying to say or play. If they play or sing something that is right to me, I go that's it! you did it, I didn't. I owe that to them, to their creativity and their contribution to helping it sound better, so that's the way I usually operate.
With the whole of the music industry at a standstill from the global pandemic, many artists and people working within the industry, have had their worlds suddenly crumble with no or little government support. The industry that is the first to respond to fundraising events and help people in need to then have a government turn their back on an industry that brings in billions in revenue and employs thousands.
"I agree that the music industry has been decimated by the pandemic like many other industries. But especially the industries that rely on social interaction because the very phrase 'social distancing', whilst it's a good medical phrase, It's a nightmare for industries that rely on social contact including the music industry and people that support the music industry. The music industry is one of the first industries to support national crisis' on things like bushfires or droughts or whatever is going on and yet it is one or the last industries to really be able to be embraced and helped, especially by the government. It's something that is really serious and I think to a certain degree what I think and I've seen people like APRA AMCOS (Australasian Performing Right Association (APRA) and Australasian Mechanical Copyright Owners Society (AMCOS)) and other organisations you know, in the back ground, have been trying to get the government to understand that the more they support the Australian music industry, which by the way is not just a national industry, these days, there are many many artists out of Australia that do great and do well overseas, and that didn't used to be the way, so I think, if the Australian Government was able to recognise that, if they would not only help the Australian music industry, but support it and actively promote it, especially overseas, that the revenue as an industry for Australia would only get better and better.
With Farriss' illustrious career in the music industry, with accolades with INXS, his award winning song writing, to even adding an Order of Australia medal for his contribution to the Australian music industry to the list, Farriss is still very down to earth and very humble. Even during a global pandemic, Farriss' ends our chat with a positive thought:
"Just remember, the reason why your fire in your open fireplace looks so beautiful burning wood, is cause the tree was beautiful in the first place"
Now, to hear that quote as lyrics in his next song. Watch this space……..

'Love Makes the world' is available on the usual streams. Head to www.andrewfarriss.com for further details
Please follow and like us:
About Post Author