Steel Panther and Sevendust Unveils Brisbane mini-fest line up on the 'Heavy Metal Rules' Tour
Steel Panther is going big. Really, really, really big. Like, outdoor festival style show type of big! And they're bringing 5 kick ass bands with them to electrify and amaze your eyeballs and ear holes.

Sevendust, Dead Letter Circus, Lagerstein, Devilskin, & Bare Bones will help round out this amazing lineup! Tickets are on sale now for the new Brisbane show and remaining tour dates.

This tour marks the largest venues that Steel Panther will have played in Australia due to growing demand every time they return down under! The 'HEAVY METAL RULES TOUR' starts in New Zealand at Powerstation on Sunday October 24th. On Tuesday 26th October they meet up with Sevendust to double-team Australia. Catch both bands at Margaret Court Arena, Melbourne on the 26th, at Newcastle Entertainment Centre, Newcastle on the 28th, at Hordern Pavilion, Sydney on the 29th and then for the final blow-out at Eaton's Hill Hotel, Brisbane on Saturday 30th October.

For the uninitiated, Steel Panther was formed in 2000 and is comprised of Michael Starr (lead singer), Satchel (guitarist), Lexxi Foxx (bass) and Stix Zadinia (drums). Hailing from Los Angeles, the epicenter for rock n' roll in all its debauchery and glamour, Steel Panther has established themselves as the world's premier party band, melding hard rock virtuosity with parody and criminally good looks. Steel Panther is a global phenomenon with four full-length albums, touring across the world, platinum-level YouTube status and a #13 debut for the new album Heavy Metal Rules on the ARIA charts.

Along for the ride are Sevendust, who were last here in 2019 on their tour celebrating the 2018 album 'All I See is War'. While demonstrating their musical mastery accumulated over more than 25 years as a band and simultaneously destroying all expectations for their live show, Sevendust show no signs of slowing down. To this day, the connection between fans and the GRAMMY® Award-nominated gold-certified hard rock outfit only grows stronger. They released their latest album 'Blood & Stone' in October 2020 through Rise Records.

Tickets are on sale now at mjrpresents.com.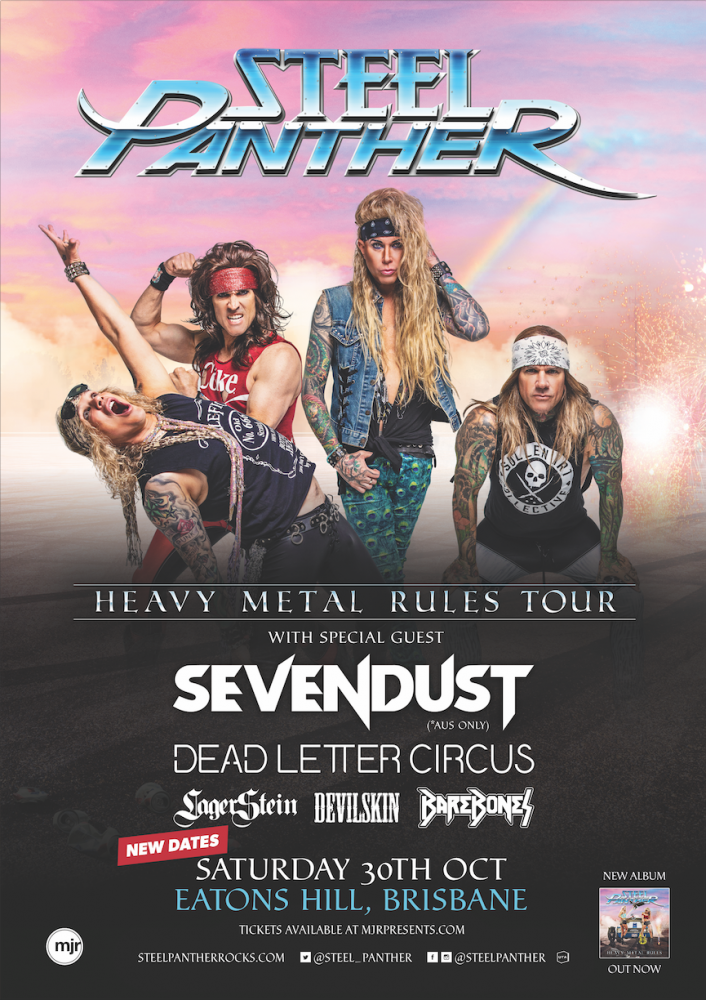 Please follow and like us:
About Post Author