No Sudden Moves to hold an exhibition and release a vinyl of instrumental music inspired by the digital art of Nate Hill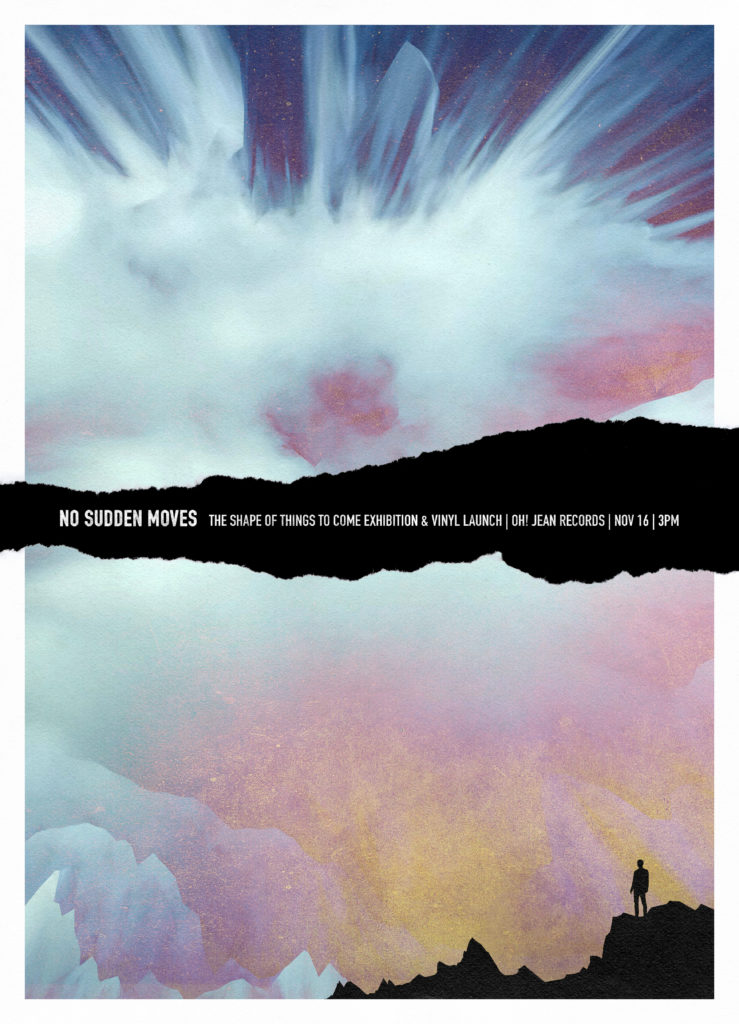 No Sudden Moves is a project that was conceived by Melbourne based photographer and digital artist Nate Hill. The concept was to combine his love for music and art, record and release an album and hold an exhibition. To do this, Hill would enlist the help of good friend and talented multi instrumentalist, Geoff Kerr. Heading into Kerr's studio as often as they could, the newly formed duo would record a set of songs that were inspired by various pieces of Hill's digital art. The resulting album is titled The Shape of Things to Come. The music delivers mellow, meandering soundscapes that fit hand in glove with the picturesque digital landscapes that inspired them. They have produced a vinyl that is limited to 100 copies and comes in an awesome gatefold package that has the art that inspired the music inside. The album will be launched at Oh Jean record store in Fitzroy on Saturday November 16th at 3pm. It will also available on all the usual digital platforms.
Playing in a number of bands and having played and taught drums for a long time, music has always been a huge part of Hill's life. More recently, photography and digital art have moved from being a hobby and passion to a business. Having built an audience of over 16K followers on instagram, Hill now works with artists and bands to create visuals to accompany their music. So it wasn't a huge leap to get from there to No Sudden Moves.
Influences for this particular project include instrumental post-rock bands like Mogwai, Explosions In The Sky, Fourteen Nights At Sea. As for digital art, there are quite a few people found through Instagram that inspired the process to get into heavily editing his photos, however Hill would like to think that he has found his own little niche and style underneath the expansive banner of digital art.
Nate Hill describes the No Sudden Moves project: "This project has been the best part of two years in the making. It started out as an idea to combine two passions and really grew into one major project. The creation of art is a very solitary and personal thing for me. It almost takes me to another place when I sit down and focus on it. Conversely, the creation of the music was in partnership with my great friend Geoff Kerr and much more of a collaboration. Both, however, have those moments when you see something form out of nothing. There is a great sense of creative/artistic achievement in that. The work as a whole is something I am really proud of and is the realisation of a dream. To put on an exhibition and to release an album on vinyl are very tangible things that can leave a legacy. I hope that there will be some people out there that can connect with it."
No Sudden Moves – The Shape Of Things To Come Exhibition & Vinyl Launch
Saturday 16th of November from 3pm at Oh Jean Records in Fitzroy.
Please follow and like us:
About Post Author