Hellions 2019 Australian Tour With Special Guests Yours Truly, Dregg & More!
Genre-melding rock outfit Hellions are gearing up for their biggest run of Australian headline shows to date this May, stopping off inAdelaide, Perth, Brisbane, Sydney and Melbourne, with special guests Yours Truly and Dregg lending their support nationally.The band have handpicked some of their favourite Aussie bands to join them along the way includingSleep Talk, The Beautiful Monument, Nautical Mile, Young Lions and Between You & Me. The Sydney four-piece have come off the back of a massive 2018, which saw the release of their fourth studio album Rue late last year, alongside sold-out shows in Australia and the UK, plus appearances at international festivals Truck Festival, Y Not and 2000 Trees. Showing no signs of slowing down, Hellions blazed into the new year with a dynamic performance at UNIFY Gathering and are raising the bar even higher for 2019 with ambitious plans for their Australian shows:"We are absolutely ecstatic to take Rue on the road for what will be our biggest run of headline shows to date! The Hellions Community is ever growing and our aim is to get as many of you in the same room together, to feel the love we feel and to share with each other what will be some of the best nights of our lives.The live shows will see us share with you cuts from our latest record, Rue, as well as some old favourites and some songs we haven't played for a very long time (or ever). It's the ultimate Hellions set list and the show we've always wanted to do!"-Hellions
With four studio albums and an ARIA nomination in their stride, Hellions have gathered millions of streams, winning over fans near and far with their theatrical sound and thoughtful lyricism.Praised for their creative madness and endless ambition, Hellions have rocked global Spotify and AppleMusic playlists and earnt themselves regular spins on triple j with colossal tracks like 'X(Mwah)', 'Smile' and 'Harsh Light'.Fellow Sydney siders Yours Truly and Melbourne-based hardcore collective Dregg will join Hellions on their lap around the country. An impressive line-up of hand picked local talent will also jump on stage in each city, including Sleep Talk(ADL),The Beautiful Monument(ADL),Nautical Mile(PER), Young Lions(BRIS)andBetween You & Me(MELB).
Hellions have teamed up with mental health organisation Beyond Blue for the tour, and will be donating a portion of ticket and merchandise bundle proceeds sold via 24hundred. "Positive mental health is extremely important to us and Beyond Blue are at the forefront of aiming to provide the 3 million Australians living with anxiety and depression, with information and support to help achieve their best possible mental health, whatever their age and wherever they live."-Hellions Fans are in for a memorable night as the band whips around the country, but as always are reminded that Hellions shows are an all-inclusive, safe space:"YOU are welcome here and encouraged to participate.If at any point you are made to feel uncomfortable, threatened, unsafe or experience any form of anti-social, inappropriate or discriminatory behaviour, please see a member of the venue staff or head to the merch area for assistance.All matters will be dealt with discreetly -your safety and well-being is our #1 priority."-Hellions Hellions fan pre-sale tickets are available now. General sales begin this Friday 15 February via Oztix & Ticketek.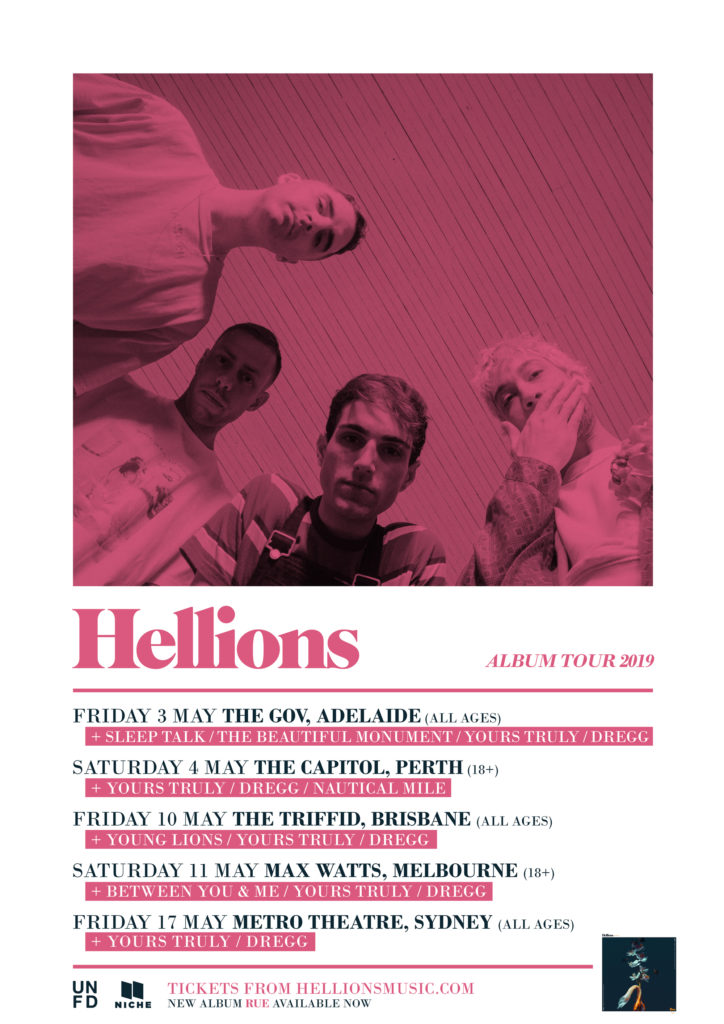 Please follow and like us:
About Post Author