Cookin' On 3 Burners reveal their long awaited album Lab Experiments Vol. 2 and announce 2019 launch date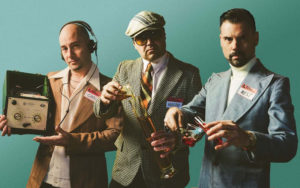 Boasting eight brand new Burners' cuts, this sequel release to 2017's Lab Experiments Vol. 1: Mixin' will take you on an exciting musical adventure traversing soul, up-tempo boogaloo, cinematic journeys and straight up dirty dance floor funk.
Lab Experiments Vol. 2's instrumental tracks capture the fiery interplay from the band's cranking shows across Australia, Europe and the UK – a trio in full flight scorched straight to analogue tape. The new album features collaborations galore, including the recent dance floor filler 'Warning' featuring rising neo-soul singer Kaiit, as well as other hot collabs with The Meltdown's resident heartbreaker and vocalist Simon Burke, the voice of 'This Girl' Kylie Auldist and Chicago born, Melbourne-based Fallon Williams who lends his gritty vocals to the outfit's latest single 'Force of Nature'.
check out latest below:
https://cookinon3burners.bandcamp.com/album/lab-experiments-vol-2?utm_source=Online+Music+Media+Australia&utm_campaign=237b79f9e0-Cookin%27+On+3+Burners+-+Lab+Experiments+Vol+2&utm_medium=email&utm_term=0_8cfe9d8f7e-237b79f9e0-712065829
First lifted single 'Warning', garnered immediate industry attention upon its release with rotation on Double J, the #4 and #2 spots in its first two weeks on Amrap's Metro and Regional Chartsrespectively, and featured on Spotify's coveted New Music Friday Playlist and Apple's Music's Best Of The Week.
Lab Experiments Vol. 2 has already earned its stripes as some of the Burners' most well received and instantaneously recognised bodies of work, picking up the PBS Feature Record,Spotify's coveted New Music Friday Playlists and Apple Music's Best Of The Week as well as BBC6 airplay on The Craig Charles Funk and Soul Show.
Now in their 21st year, Cookin' On 3 Burners continue to evolve their late 60′s/early 70′s inspired sound, blossoming from the trio's experimental beginnings paying homage to artists on the Prestige, Blue Note & Groove Merchant labels of the era. On stage the Melbourne outfit are forever at the top of their game, with an immersive live show that is a true gift to behold. Having sold out their single launch at the Northcote Social Club and headline show at theKastoria Music Club in tropical far, far North Coburg, be sure to join Cookin' On 3 Burners as they kick off the New Year with a hometown show to launch Lab Experiments Vol. 2 at Howler, Melbourne.
You're in for a sweet treat.

COOKIN' ON 3 BURNERS W/ STELLA ANGELICO ALBUM LAUNCH
Saturday 23 February
Howler, Melbourne
Supports: TBA
Tickets on sale now via www.moshtix.com.au
Lab Experiments Vol. 2 is out now via Soul Messin' Records
Spotify // Bandcamp // iTunes // Apple Music
Please follow and like us:
About Post Author